On September 6, 1952, the first TV station in Canada went on the air in Montreal, the French language public broadcaster Radio-Canada CBFT.  September 8, saw the first TV broadcast was made from the public broadcaster's English service,  the Canadian Broadcasting Corporation station CBLT
After an inauspicious debut with the station ID, upside down and backwards, the night's programming began at 7;15 pm and featured a weather forecast, and a puppet sketch. 
A "news magazine" was presented with highlights in the development of CBC TV, various speeches by dignitaries including the Prime Minister, a variety show featuring a young genius pianist, Glenn Gould, followed by a half hour with a the Leslie Bell female choir, another variety show from Montreal and then to end the night the half-hour repeat of the 7;30 show was aired starting at 10pm.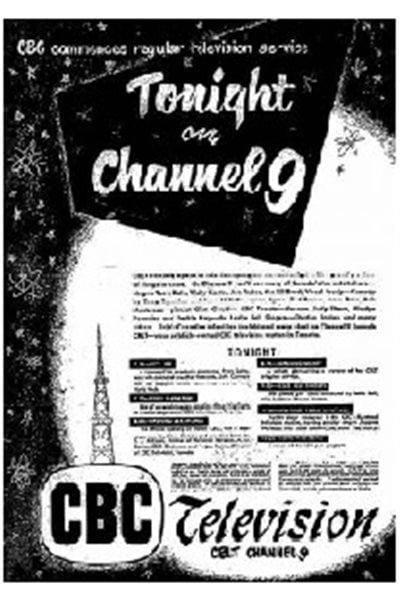 Advertisement in the Toronto Star newspaper of Sept.08, 1952
Colour TV would come to Canada on July 1, 1966, although it really didn't become more common until 1969, and even then was phased in over a few years, with full time colour nationwide available as of 1974.
-rcinet.ca
1. Tiny Toon Adventures
Tiny Toons featured beloved characters such as Babs and Buster Bunny, Elmyra, and Plucky as they attended Acme Looniversity. Any episode featuring Baby Plucky or They Might Be Giants was pure gold. What 90s kid didn't go around quoting "water go down the hole" or singing "Particle Man" at the top of their lungs?
2. Animaniacs
Animaniacs introduced an enormous cast of characters including the Warner siblings, Yakko, Wakko, and Dot, Slappy Squirrel, The Goodfeathers, Mindy and Buttons, and Pinky and the Brain. The show featured some great parodies (The Goodfeathers were of course a play on "Goodfellas"), but arguably one of the best was Slappy Squirrel's Woodstock segment that parodied Abbott and Costello's "Who's on First?" Who can forget Wakko's hilarious "potty emergency" or Mindy's adorable catch phrase, "okay I love you bye bye"?
3. Pinky and the Brain
Pinky and the Brain first appeared on Animaniacs, but were then spun off into their own well-deserved series which followed the two lab mice as they continuously plotted to take over the world. It spawned memorable catch phrases such as "Narf" and "Are you pondering what I'm pondering?," the latter of which was always answered with a different hilarious answer. Due to Pinky's idiocy, their plans were always foiled. The Brain might have been better off working alone, but it wouldn't have been nearly as entertaining.
4. Darkwing Duck
Darkwing Duck follows the adventures of Drake Mallard's costumed alter-ego as he tries to rid the streets of St. Canard of evil. Darkwing Duck was a cartoonish satire of many superhero tropes, with a great amount of slapstick and happy endings. With the help of his hapless pilot/sidekick Launchpad McQuack and his "spirited" adopted daughter Gosalyn, Darkwing Duck also saves the day. "When there's trouble, you call DW!"
5. Doug
Doug learned to adjust to a new hometown with the help of his best friend Skeeter, crush Patty, and dog Porkchop. Doug was a kid with a strong imagination who occasionally imagined himself as a superhero named Quailman. When Doug and his friends weren't at school, they spent their time hanging out at the Honker Burger and listening to their favorite band, The Beets, and their hit song "Killer Tofu."
 6. Rugrats
Rugrats focused on a group of babies and the hilarious antics they got into when the adults weren't looking. The leader, Tommy, always sprung himself and friends Chuckie, Phil, and Lil from the play pen with a screwdriver he kept in his diaper. Unfortunately, Tommy's older cousin Angelica would always get in their way. The popular series spawned two movies and a spinoff. It was also one of the first animated shows to incorporate Jewish holidays with "A Rugrats Passover' and "A Rugrats Chanukah."
7. Captain Planet and the Planeteers
Captain Planet was a show about five people from across the globe who were given rings that controlled earth, wind, water, fire, and heart. Together, they defended the world from pollution and other environmental issues usually caused by the Eco-Villains. When they couldn't handle it themselves, they combined their powers to summon Captain Planet for some extra help. Captain Planet provided a fun and entertaining way for children to learn tips on taking care of the environment.
8. Recess
Recess focused on a group of fourth graders and their favorite part of the school day, recess. The playground was ruled with its own governing system, complete with a king (a sixth grader) and their own set of unwritten laws. The majority of episodes dealt with the leader, TJ, and his friends' struggle to defend their freedom during recess.
9. Rocko's Modern Life
Rocko's Modern Life centered around a wallaby named Rocko and his friends, a heavy-set steer named Heffer, a turtle named Filburt, and his dog Spunky. The series received critical acclaim for its clever humor that often included subtle adult themes. The show follows Rocko as he attempts to navigate life's various endeavers in his home of O-Town.
 10. The Ren & Stimpy Show
Ren & Stimpy has become a cult favorite thanks to its controversial humor that often included violence and sexual innuendo. The series followed a cranky Chihuahua and a simpleminded, cheerful cat as they embarked on various adventures. The cartoon is perhaps best known for catchy tunes "Happy Happy Joy Joy," and "The Log Song" as well as superhero "Powdered Toast Man."